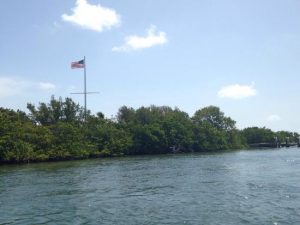 Adam's Key lies on the north side of swift-moving Caesar Creek; it is an island north of the Upper Keys in Biscayne National Park. It is located west of the southern tip of Elliott Key (about 5 miles), in the lower part of Biscayne Bay. Managed by Miami-Dade County, Florida.
An earlier name for this island was Cocolobo Key. It was later called Adams' Key on U.S. Coast & Geodetic Survey of 1862.
Once home to the famed Cocolobo Cay Club, a retreat and favourite vacation spot for the rich and famous for such notables as Carl Fisher, Gar Wood and Presidents Warren G. Harding, Herbert C. Hoover, Lyndon B. Johnson and Richard M. Nixon.
The Cocolobo Cay Club, a private resort and everything else on the key, including the buildings of the club which still stand today, was destroyed in 1992 when Hurricane Andrew passed directly over Adams Key.
Today, Adam's Key is a day-use area open from dawn until dusk, no overnight camping allowed. Adams Key is home to two Park Rangers and their families who oversee the islands.
The key is only accessible by boat, and overnight docking is prohibited, a short trail leads through the hardwood hammock, a picnic pavilion and restrooms are available. The island's manicured grounds are home to a picnic pavilion with only a couple of tables, and there is a short hiking trail that passes through the maritime forest. There are some lovely lagoons with all sorts of fish and other wildlife in the keys around Adam's key. Adam's key is an excellent place from which to launch a paddling trip to nearby keys.
Legend has it; the island served as a base for Black Caesar, a pirate (died 1718). Black Caesar was an 18th-century African pirate. For nearly a decade, he raided shipping from the Florida Keys and later served as one of Captain Blackbeard's, a.k.a. Edward Teach's, crewmen aboard the Queen Anne's Revenge.
He was one of the surviving members of Blackbeard's crew following his death at the hands of Lieutenant Robert Maynard in 1718. Caesar's Rock, one of three islands located north of Key Largo, is named in his honour and is the present-day site of his original headquarters.
A trash free island, meaning that you must take your garbage with you. Pets may not be left unattended and must be kept on a leash.