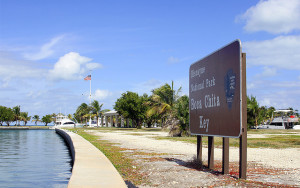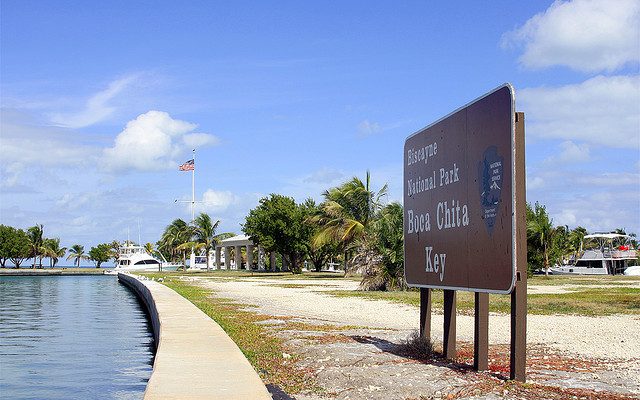 Boca Chita Key is an island in the Upper Florida Keys located in Biscayne National Park, Miami Dade County. The key is just north of Sands Key. This island is the most popular in Biscayne National Park and offers visitors a good variety of activities. There is a campground with barbecue grills and tables near the harbor.
An ornamental 65-foot lighthouse is present on the key, built in 1937 by the former owner Mark Honeywell. The Miami Beach skyline, Key Biscayne, islands and the ocean can best be appreciated from the observation deck it provides.
The harbor has a bulkhead with cleats in where visitors to the island can tie their boats ($20 dock fee). Especially nice during the holidays… This is a well-used popular spot on the weekends and holidays by the nearby Miami folks. It is a great place to tie up on the bulkhead during the week when only a few boats are there. The weekends are another story. There may be 20 -30 boats there, mostly families.
Rangers visit at least once a day. Toilets are available, but there is no freshwater or electricity on the island, there are no sinks, showers or trash deposit.
Protected from all directions. This is a great stop over – for one night or a week. Great swimming and snorkeling around the island – awesome history and trails.
A half-mile hiking trail starts just east of the restrooms. The trail continues to the south end of the island curving back north and emerging near the pavilion and picnic area.
If you arrive on a weekend and can find a spot at the wall, the sunsets and palms blowing in the breeze make the stop worthwhile.