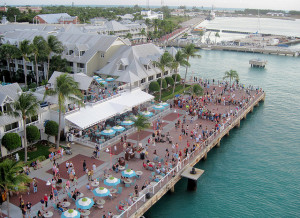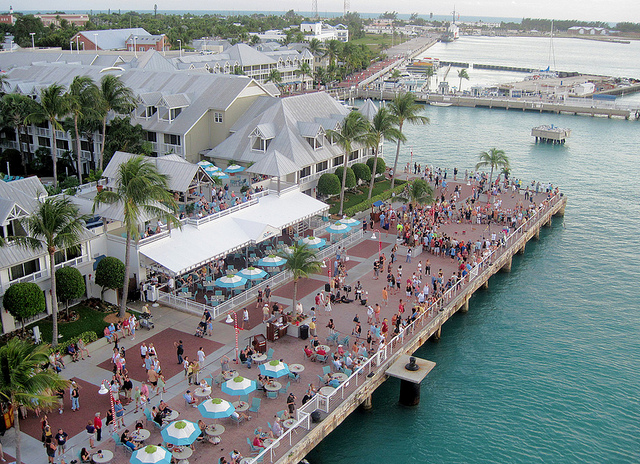 Key West Florida is perhaps the most well-known key of all the Florida Keys. Key West is within the city limits of Monroe County, Florida. The city also occupies portions of nearby islands and is at the southernmost tip of the Florida Keys. The island is about 90 miles from Cuba and is about 4 miles long and 1 mile wide.
Cayo Hueso is the original Spanish name for the island of Key West, Cayo means key (Cay) while Huseo means bone. Historical records show the island has gone by various names including Cayo de Guesas, Cayo de Gueso, Cayo de Muessos, Cayo Guesso, Cayo Huesso, Cayos de Guezo, Thompson's Island and West Kay.
The name Cayo Hueso is believed to have come from the Spanish adopting the word Cayo from the Taino Indians of Hispanola and Cuba which was their name for small island. The second part of the name Hueso (bone), it is said, the island contained several humans remains of native peoples who used the Island as a communal graveyard. Others believe that it may have come from the Seven Year Apple tree (Genipa clusiifolia) found in the Keys, which was also called Huseo by the Spaniards.
Key West has seen its share of industries come and go…
Wrecking / Salvaging – US industry of salvaging wrecked ships which was made legal in 1825 with the Federal Wrecking Act which required all property wrecked in US waters be taken to a US Port of Entry. Key West was designated a Port of Entry in 1828.
Salt Production – The 1830's saw salt manufacturing emerge, this was essential in food preservation. This was harvested via receding tidal pools not from salt mines.
Cigar Manufacturing – 1831 saw William Wall (Englishman), start a Key West cigar company. An industry with a heavy Cuban influence.
Sponge Industry – In the 1840's sponge harvesting brought an influx of Bahamians.
Shrimping – 1949 brought commercial shrimping, large shrimp harvested from the Marquesas and Tortugas.
Other industries such as fishing and Turtling (Turtle Hunting), have also been part of the history of Key West. Today Key West relies heavily on tourism, with the lowest temperature recorded at 41 degrees, it offers nearly year round fun.
Things to do in Key West:
Spend the day at the beach – Sometimes there is nothing more appealing than spending a day at the beach. The island is dotted with public beaches, Smathers Beach on South Roosevelt Blvd is the largest public beach in Key West. A half mile stretch of soft, sandy man-made beach, beautiful turquoise waters and lined with palm trees. Restrooms, ample parking, concession stands, chair rentals, bike paths, picnic tables, volleyball nets, jet skiing, parasailing, and windsurfing are just a few of the things to do here.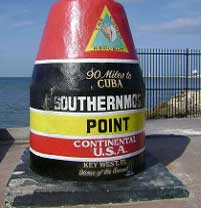 Visit the Southernmost Point – Most visited and photographed attraction of Key West. The signs that would normally mark the spot kept "walking away" so the concrete buoy replaced them in 1983. The sign marks a key point in that it is 90 miles from Cuba, but is not actually the southernmost point of the Keys.
Visit Duval Street – Named for William Pope Duval, the first governor of Florida, Duval Street is just over a mile in length from shore to shore. The area is full of historic Victorian Mansions with heavy Spanish and Bahamian influence with cultural ties to Cuba.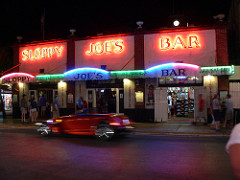 The "Duval Pub Crawl" is known to tourist and locals alike, basically you walk from one end of Duval Street to the other end, stopping at each of the very popular bars. Popular restaurants include Sloppy Joe's, Jimmy Buffett's Margaritaville, The Bull and Whistle, kokomo Joe's, Rick's Cafe and Irish Kevin's bar.
Mallory Square – A plaza known for the "Sunset Celebration" which involves hundreds of tourists who arrive each night to view the sunset. Art and craft exhibits, food carts, souvenirs, fortune tellers and street performers, give the area a carnival like atmosphere.
Ernest Hemingway Home and Museum – Wandering paths take you through gardens past Guava Trees, Agave and Coconut Palms… The Hemingway home is a 2 story home with wrap-around porches on each level, built in 1851 and later purchased by Hemingway in 1931. Allergic to cats? This may not be for you… Ernest Hemingway was given a white six-toed cat (polydactyl) by a ship's captain and some of the cats who live on the museum grounds are descendants of that original cat, Snow White.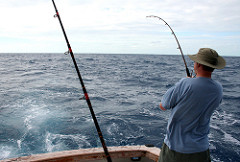 Kayak, Snorkeling & Diving the Keys – In Key West you will find numerous areas to participate in these activities. Smathers Beach, Higgs Beach, Fort Zachary Taylor, South Beach Key West all provide great areas. It is recommended that you take advantage of various "tours" in where they package together multiple activities.