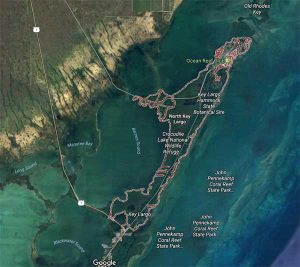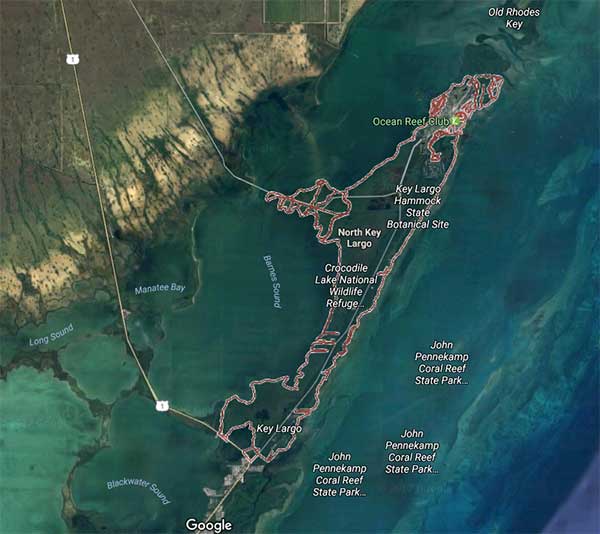 North Key Largo is a census-designated place (CDP) in Monroe County, Florida, United States. The population was 1,244 at the 2010 census. It includes two private clubs, the Ocean Reef Club and the Key Largo Anglers Club and is reached from the mainland via the Card Sound Bridge.
North Key Largo is located at 25°17′23″N 80°18′25″W (25.289586, -80.306813). According to the U.S. Census Bureau, the census-designated place (CDP) has a total area of 19.7 mi², of which 18.8 mi² is land, and 0.9 mi² or 4.53% is water.
The first of the Upper Keys of Florida reachable by car, Key Largo is the largest island in the chain about 30 miles long. Key Largo originally named Cayo Largo meaning "Long Key" by the Spanish, North Key Largo sits on the northernmost of the Florida Keys connected by roads to the mainland, North Key Largo is known for sun and water amusements such as fishing which is one of North Key Largo's big draw.
One of the larger projects during the 1970s was the North Key Largo Yacht Club, also known as Solarelle, today known as Port Bougainville. Today, portions of North Key Largo are being purchased for conservation by the government.
It contains a few parks such as the Dagny Johnson Key Largo Hammock Botanical State Park. The Park was established in 1982 with land acquired by Florida's Conservation and Recreational Lands program. Now 2,421 acres on the northern third of the island of Key Largo, the park was named for Dagny Johnson, a local environmental activist, approximately one year before her death in 2003.
Throughout the 1970s, `80s and `90s, Johnson led the Upper Keys Citizens Association, the Izaak Walton League and other environmental organisations that fought to stop the development that was planned for much of north Key Largo. Preservation of onshore communities was not the only purpose of protecting North Key Largo. These environmental activists also wanted to protect the coral reefs offshore from the adverse impacts of land development.
North Key Largo has many attractions, of these our favourite is the Island Dolphin Care, a non-profit organisation. "A magical place where dolphin therapy brings children with special needs, children at risk, wounded veterans and their family's joy and the discovery of new abilities. Parents and participants reclaim hope, shed stress and find inspiration through activities centred around dolphin human therapy."