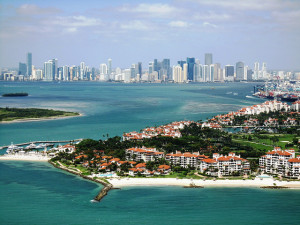 The U.S. state of Florida has a total of 4,510 islands that are ten acres or larger in size. Second only to Alaska in islands among U.S. States the major island chains in Florida include the Keys, the Sea Islands, The Barrier Islands of the Intracoastal Waterway and the Ten Thousand Islands.
Now Florida contains what are referred to as Islands and Keys. A difference between the two can be that Keys generally do not have fresh water. Islands are usually land that is surrounded by water, they are either continental (part of a continents shelf) or volcanic (formed by an undersea volcano).
Keys, also called cay (pronounced the same) which is believed to have come from the Spanish word "Cayo" (or Native Peoples as this was their name for island), are formed by coral reefs. Reef debris accumulate in certain areas depending on currents and other factors, over time they form. The sediment that accumulates over time forms the Key. The sediment is generally made up of the skeletal remains of animals and plant life.
Keys are sandy, low-elevation islands that form on top of coral reefs. Size is not a factor, but formation, makeup and elevation however, are factors.