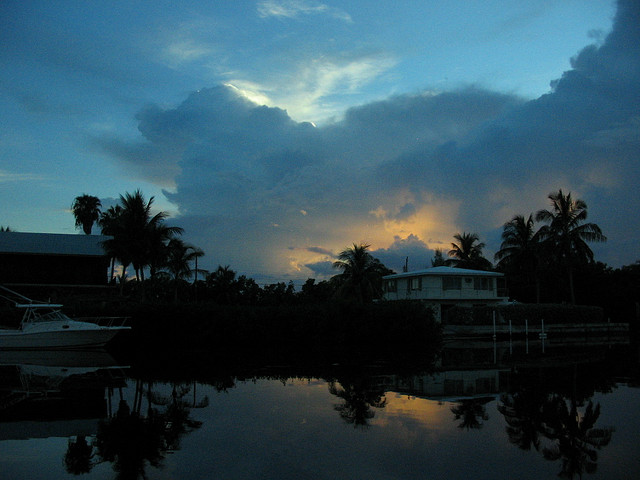 Islamorada, pronounced I-la-moh-ra-da by locals or ease-la-moh-ra-da in Spanish means "Purple Island". Islamorada the "Village Of Islands" is an incorporated village in Monroe County Florida made up of Plantation Key, Windley Key, Upper Matecumbe Key, Lower Matecumbe Key, Indian Key, Lignum Vitae Key and Tea Table Key.
Indian Key and Lignum Vitae Key are part of the Florida State Park System and Tea Table key is a privately owned island. The village was incorporated in 1997, previously, Islamorada was only considered to be on the island of Upper Matecumbe Key. Islamorada's history spans over 3,000 years of activity.
The aqua blue waters around Islamorada provide amazing views from every bridge and the waterfront. Large and varied population of marine life, shallow coral reefs, shipwrecks, mini-walls and Aquarius which is the only undersea laboratory in the world dedicated to science and education. Aquarius Program is dedicated to the study and preservation of marine ecosystems worldwide.
Islamorada is considered the Sport Fishing Capital of the World. But there are numerous activities including diving, snorkeling, kayaking, wind surfing, parasailing and boating. There is always some event happening in Islamorada, from fishing tournaments to boat racing.
Some of the more popular things to do in Islamorada include:
The Eagle – A 287 foot ship sunk in 110 feet of water as a dive attraction. Experience colorful views of sponge and coral populated by large schools of Tarpon, Grunt and Jack's.
Davis Reef – This reef is loved for it's huge schools of Grunts, Snapper and friendly Green Moray Eels.
Alligator Reef – In just 25 feet of water you will find the USS Alligator which sank in 1822 while protecting a convoy from pirates. A 136 foot lighthouse marks the spot.
Conch Wall – Offers a sloping wall… once you arrive at the seafloor you will find it teaming with Barrel Sponge and Gorgonia.
Crocker Wall – A nearly 500 foot wall in 50 feet of water that offers a variety of Grunts, Yellowtail and Grouper. Spur & Groove Coral and Block Coral can be found all along the wall.
Pickles Reef – In 15 – 25 feet of water this area delivers a picturesque scene. Here you can find anything from Flamingo Tongue Cowries to Banded Coral Shrimp.
Some Facts:
The northern island is Plantation Key.
Farther south is Windley Key.
Upper Matecumbe Key contains the original community of Islamorada.
Lower Matecumbe Key is the southernmost key.
Indian Key is the earliest community and once was the county seat of Dade County.
Lignum Vitae Key (Wood of Life Key) was once the private island of William J. Matheson.
Tea Table Key, Fort Paulding during the Second Seminole War and now a private island (one house).