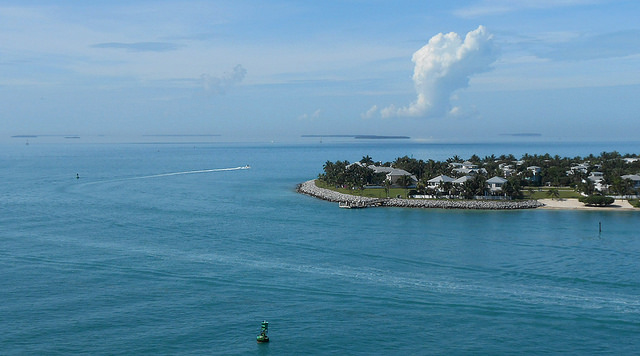 Sunset Key formerly Tank Island, not to be confused with Tank Island in New York, is a 27 acre residential and resort island. It is about 200 yards from Wisteria Island and 500 yards from the coast of the island of Key West Florida.
There are two artificial islands just west of Key West, Florida. They were created from spoil when the U.S. Navy dredged Key West harbor. This is part of Sunset Key (formerly Tank Island), is one of them, the other is Wisteria Island.
Sunset Key (Tank Island), was created as a result of the U.S. Navy dredging of Key West Harbor. The sediment that was collected, was deposited a few hundred yards off the northwestern corner of Key West, creating Tank Island (Sunset Key).
Key West is the westernmost inhabited island in the chain of Keys. On a clear day you can see other nearby islands such as Dry Tortugas. The island is privately owned and only accessible by a shuttle boat from the Westin Marina.
Sunset key offers swaying palms, cool island breezes, bountiful gardens, and privacy. In the 1960's, the U.S. Navy erected large fuel storage tanks there, and so it was named Tank Island. In later years, the island was renamed Sunset Key by developers.
Today Sunset Key is made up of around 48 single-family homes valued at over $1.5 million each and Westin Hotels & Resorts. The resort is reached by a seven minute boat ride from Key West. Sunset key is located 90 nautical miles from the Cuban coast and 150 miles from Miami.
Sunset Key, is the gateway to the Islands of Caribbean, blue waters of the Gulf and stunning views all round.