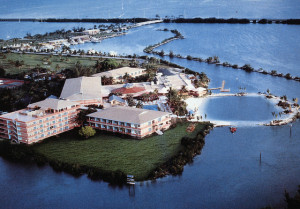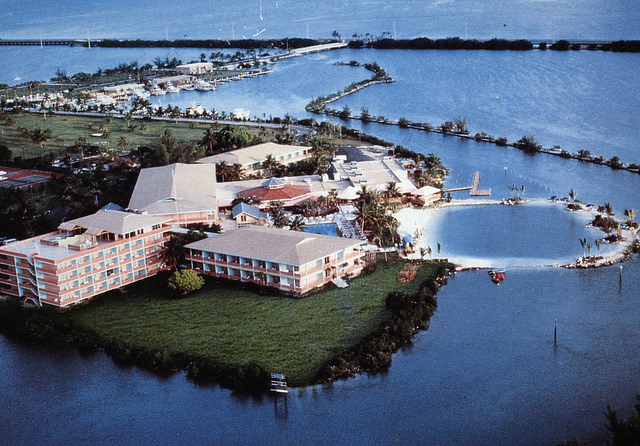 Duck Key is located on the ocean side of the Overseas Highway (HWY 1), mile marker 61, between Long Key and Grassy Key. Like most of the Keys, Duck Key was unnamed on early Spanish charts. In older Spanish treasure recovery maps it was included as one of the Key Vaccas, or Cow Keys. Later called by the Spanish "Chinche" meaning bed bug or the bug / a bug.
In 1772, the DeBrahm chart shows it as Reynolds Island and later charts as Cayo de Holandes or its English translation of Dutch Key. In a chart by George Gauld in 1775, he named it Duck Key, the name which has stuck to this day
This key was the site of a salt manufacturing operation in the early 1800's. There are references to salt ponds on Duck Key very early on. Salt was absolutely essential for prolonged food preservation, processing and shipment.
After the hurricane of 1935 the island remained uninhabited until 1953 when a causeway was built which connected it to the highway by way of picturesque arched Venetian type bridges.
Stories of Pirate treasure abound, possibly due to the many shipwrecks in the Middle Keys. Of these, in close proximity to Duck Key and Walkers Island (Now Little Conch Key) was the wreck of Sueco de Arizon which was part of the doomed Spanish fleet of 1733. Previously around fifty pounds of coins, worth nearly $30,000, including ten pillar dollars were recovered by divers in eight feet of water fueling the stories of treasure on Duck Key.
Today Duck Key includes Hawk's Cay Resort and Marina / Hawk's Cay Village which include a few hundred Caribbean style cottages with porches, amazing water views and the traditional white picket fence, multiple recreational facilities and complete convention facilities.
Presently there are 235 households on Duck Key under 500 residents.